FW: Just in: DJI Osmo Pocket & RODECaster Pro Podcasting Studio
---
toggle quoted message

Show quoted text
From:
B&H Photo Video Pro Audio <newsletter@...>
Sent: November 28, 2018 14:34
To: Brian K Lingard <bkl@...>
Subject: Just in: DJI

Osmo

Pocket &

RODECaster

Pro Podcasting Studio
Just Announced from DJI and Røde
| | | |
| --- | --- | --- |
| | | 212-465-4017 / 877-865-9088 |


Today, DJI unveiled the newest member of its Osmo family: the Osmo Pocket. As the name suggests, the Osmo Pocket is so compact it literally fits inside your pocket (or purse, or pack). At 4.8" tall and weighing 4 oz, the Pocket is the smallest 3-axis stabilized handheld camera DJI has ever designed, and quite possibly the smallest mechanical gimbal available on the market. Despite its pocket portability and small stature, the Pocket packs a ton of impressive features and specs you would expect to find in much larger devices. READ MORE>
Price: $349.00
Hands-On Review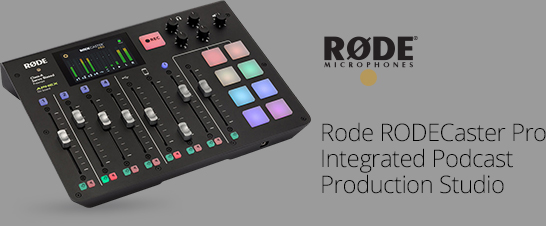 As podcasting popularity continues to rise, RODE brings you the RODECaster Pro, a revolutionary podcast studio that incorporates tools of the trade—including a phone tap for taking phone calls—in a compact unit. It is perfectly suited for professionals who are looking to enhance their podcasts with advanced components packaged together in one unit for studio use or podcasts on the move, as well as for those who are just starting out and in need of a simple, straightforward solution.. READ MORE>
Price: $599.00

 

Instant Savings: $15.00

$1499

 

Instant Savings: $80.00

$14995

 

Instant Savings: $45.00

$8988

 

Instant Savings: $22.00

$1799

 

 

Hurry! Deals End November 28, 11:59PM EST, or While Supplies Last (whichever comes first).
Prices, specials offers, specifications and images are subject to change without notice. Not responsible for typographical or illustrative errors. Manufacturer rebates, terms, conditions and expiration dates are subject to manufacturer's printed forms.
Please do not reply to this email. You have received this message because you requested to receive email updates from B&H Photo. You are subscribed as: bkl@....
UNSUBSCRIBE from future emails  |  Update your Email Preferences  |  Order-Related Issues: ord-status@...
Comment on this email: emailfeedback@...
The B&H SuperStore is located at 420 9th Avenue at 34th Street in New York City.
Visit and Experience B&H whenever you are in New York.
- - - - - - - - - - - - - - - - - - - - - - - - - - - - - - - - - - - - - - -
Join nvda@nvda.groups.io to automatically receive all group messages.